The weather here in the Philippines is quite bothersome already. I easily get tired and dehydrated. One way to surpass summer is by having shake. Last Sunday, I even went to the make just to buy myself a shake. Now, with this offer, I can now buy my own Shake 'n Go Smoothie Maker and feel refreshed even when I'm home.
The
Shake 'n Go
can be your best buddy and with this you can create your own mix of shake or smoothie. Create your own recipes. The possibilities are endless!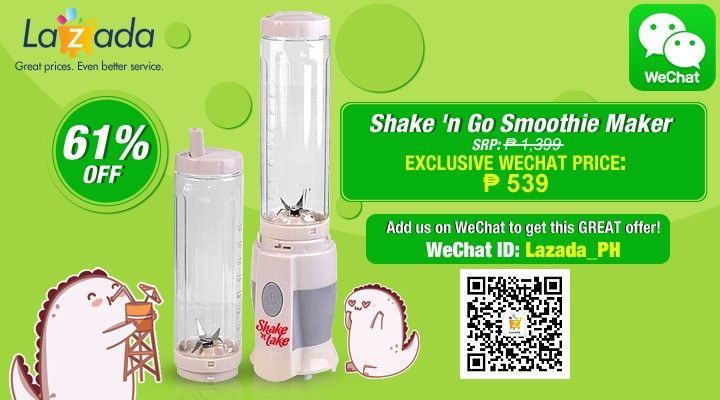 It has a strong motor that powers the stainless steel blades. You can see that at the bottom of the bottle. In just a matter of seconds, you can now enjoya cool, smooth, delicious, and nutritious drink!
The portable container has a built-in spout so you can drink directly from the container. Since this guarantees no spills, you can definitely bring this anywhere because it is really time saver and super handy to bring around.
Through
WeChat
, you can avail the Shake 'n Go for only Php539 instead of Php 1399.00! Hurry and order this exclusive deal today! Enjoy more future deals follow @Lazada_PH on WeChat!
So what are you waiting for? Don't let this offer just pass you by. This is a great steal!
About Lazada

Lazada (
http://www.lazada.com.ph/
) is Philippines' largest online shopping mall and is pioneering e-commerce by providing a fast, convenient and secure online shopping experience combined with an extensive product offering in categories ranging from mobiles & tablets and consumer electronics to household goods, toys, fashion and sports equipment. Lazada is continuously striving to offer its customers the best possible shopping experience with multiple payment methods including cash on delivery, extensive warranty commitments and free returns.
Learn more about Lazada and download the app on iTunes and Google PlayStore.
Lazada Philippines Facebook page:
http://www.facebook.com/LazadaPhilippines
About WeChat

WeChat envisions and innovates new ways for people to connect, communicate and share. A mobile social communication app designed for smartphone users, WeChat is the world's fastest growing social app with over 100 million registered accounts internationally. WeChat empowers users in fun and dynamic ways by bringing together messaging, social communication and gaming in one seamless, interactive experience, with comprehensive privacy and security settings that can be tailored as needed.
WeChat is available free for download on Android, BlackBerry, iOS, Symbian and Windows operating systems. Learn more about WeChat and download the app at
www.wechat.com
You can also follow WeChat Philippines on Facebook:
http://www.facebook.com/WeChatPH
Micmic