Hello, lovely readers. This morning, I know it is going to be a sad day. My grandmother (aunt of my mom) passed away just few hours ago. She battled cancer for 3 years and now, it is her time to go. Sad, it is. But as they say, life goes on. I want to keep myself busy today. So here I am, making this review for you guys. I've had this product for over 3 months now and I think it is about time I tell you my thoughts about it.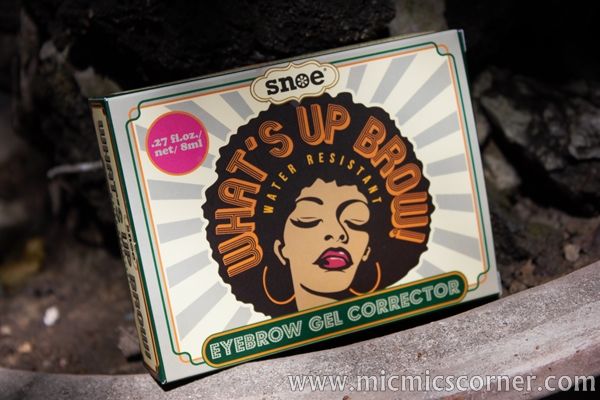 Product Information:
Snoe What's Up Brow (Water Resistant Eyebrow Gel Corrector)
Available in 2 shades: Ochre and Khaki
8ml | Php 899
Purchase at Shopinas or at any Cinderella/Snoe outlets nationwide
Create perfect face-framing brows with What's Up Brow! Waterproof Eyebrow Gel Corrector! This lightweight gel formula has the water-resistant color of a tint, fills in sparse areas like an enhancer and tames brows like a gel. It helps to create the perfect brow line that do not fade, run or smudge, even if you sweat or wear it in harsh weather conditions. Get ready for beautiful, face-framing brow color that lasts all day long. At the end of the day, it is easily removed with any gentle makeup remover.
Directions: Apply a small amount on the slanted brush to fill in any sparse area, then blend for a natural finish.Use the fine brush to make very precise corrections hair by hair or on the brow tip.Remove with waterproof eye makeup remover.
Source: http://snoebeauty.shopinas.com/product/view/8187
This is the first time I bought an eyebrow gel with slanted and fine tip brushes. Usually, I'd buy one with a spoolie. But this one is different because it is not only intended to set your brow hairs, it also helps in defining the shape of your brows. The brushes are really travel friendly and are really usable.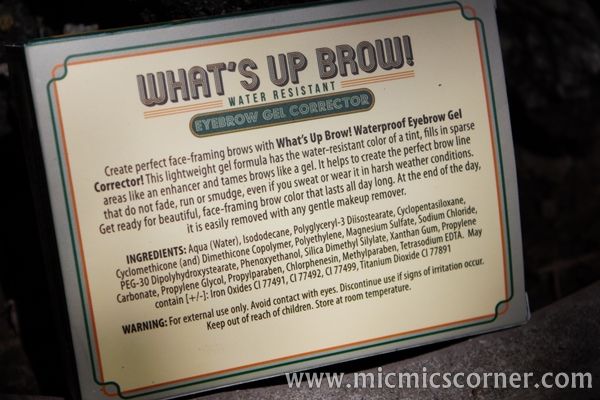 I appreciate that the box contains almost all the things I needed to know about the product: description, ingredients, warning, directions for use and manufacturing date (not seen on photos).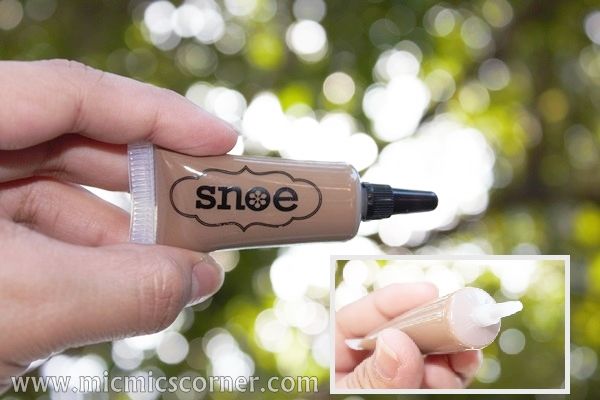 The products is housed inside a tube type packaging that is very reminiscent of OCC Lip Tars except this one is a tad bit smaller. Although this type of packaging is just the right size for travel, I am afraid it might get squeezed inside and spill the product all over your other stuff so I would suggest you place it inside a hard case before throwing it inside your purse or bag. I tell you, it can get really messy.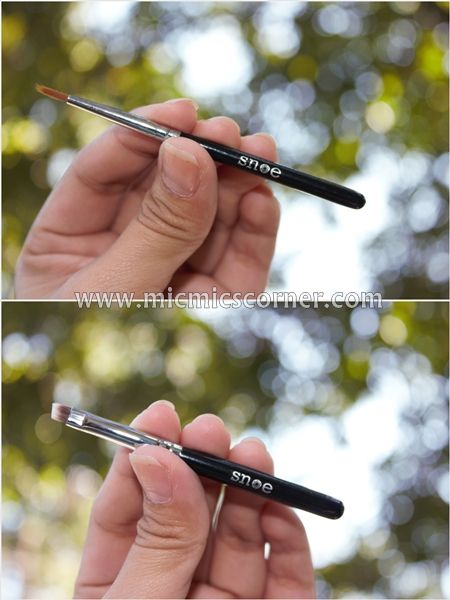 So these are the brushes I was talking about earlier. See the size? Yes, they're that small. It is harder to control than having regular size handles of brushes but these does the job well. Personally though, I can already get away with just the slanted brush.
[caption id="" align="aligncenter" width="600"]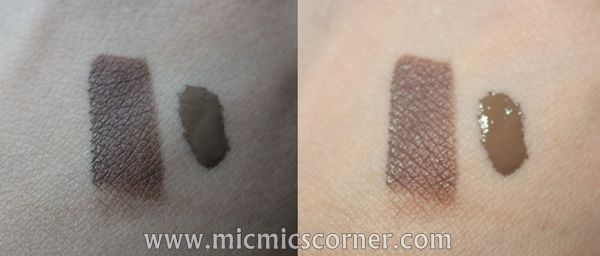 Left- without flash | Right- with flash[/caption]
 Here's a swatch of the product with and without flash. It looks neutral without flash but when with flash, it looks a bit reddish but not to the point that it will look as if you put a brownish-red lip liner. If you know what I mean. It still looks natural.
I like how it was able to make my brows look really defined. The shade also matches the color of my hair. Absolutely a perfect match.
See how groomed and defined brows frame the eyes? It changes the whole look instantly.
What I like:


Available locally; online and in some malls.


Detailed information on the box.


Unscented.


The shade Khaki matches my hair perfectly.


Easy to apply.


Useful brushes.


Lasts really long. There are times I don't need to touch up anymore. Sometimes, I retouch just the edges where I don't have hair.


Neutral:


Php 899 is a bit expensive for a brow product. But thinking of the longevity plus you'll need very little amount to fix your brows, I think that can justify the price.


What I don't like:


There are some malls that still don't carry the brand Snoe.


Khaki is already the lightest shade. I would prefer a shade lighter because I normally use 2 shades for the fading effect. But I can make this work.


It is kinda messy to use especially if you accidentally squeezed out too much product or if it accidentally gets popped open.


Instead of a fine tip brush, I'd love to have a spoolie.


Ratings:


Packaging: 3.5/5


Texture: 5/5


Shade selection: 3/5


Effectiveness: 5/5


Lasting power: 4/5


Availability: 3.5/5


Affordability: 4/5


Overall Rating:
4/5
Overall, this is my current go to brow product because with this, I am sure that my brows will still look decent after hours of being out. For added longevity, I set it with brow powder. I  would suggest using a clean spoolie to blend the product for a more natural look. See my video below for the demo.
What is your ultimate favorite brow product?
Micmic