Hello, everyone! I've been wanting to blog but since we just moved back to our old house, I can't help but prioritize the arranging of our stuff first. We are not yet done. There are a lot of things to work on but I am happy to tell you that I can now find time to blog. I may not be able to do reviews every day but I assure you that I am back not just here but also on my YouTube channel. I share my personal life there by uploading Vlogs so if you are interested, just click here to take a glimpse of my simple life. I also went out of town. I went to Cebu with my family. I thought I can blog there since I won't be doing much chores since we are away from our house but I was wrong. The wifi of the hotel where we stayed isn't stable so I decided that I'll film Vlogs instead and edit it when I'm already at home. I am just disappointed because I had the photos ready at that time. Now, schedules are mixed up again.
Enough babbling, Mic! Haha! Today I want to share with you the latest addition to my brush collection, this Mushroom Shaped Foundation Brush from Born Pretty Store. Ever since I started learning how to apply makeup, I find myself leaning towards getting more base makeup brush than eye makeup brushes. I don't know why but maybe it is because I've always wanted to have that perfect skin: flawless; no blemishes and no discolorations.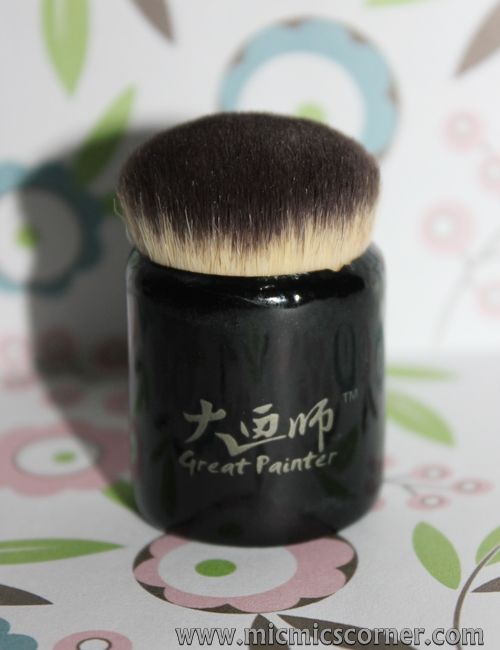 So this item was sent to me by
Born Pretty Store
to make a review on. I had this for more than a month, I think, and it is only now that I realized I am want to make a decent review about it.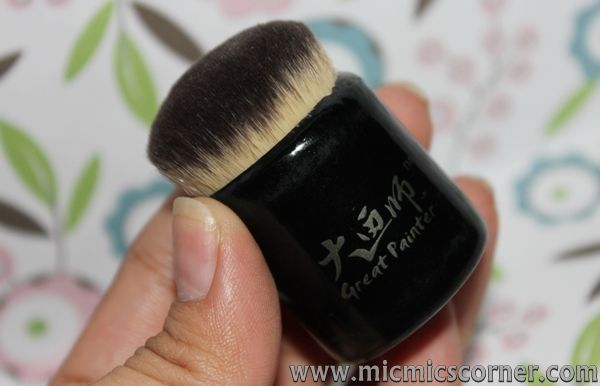 Product Information:
100% brand new
Material: Artificial Fiber
Size: 4.5cm in full length;1.5cm in hair length
Color: Black
High quality,soft feel and very helpful.
A good tool for make-up. (
source)
Price: $5.89
As you can see, the brush is really small and is perfect if you are always travelling. This can be your foundation buddy anytime, anywhere. It came in a plastic case that I think is not good to reuse knowing that it gets easily broken while opening. So, a good small bag for storage is a must in case you'll be bringing this with you to ensure dust and any other small particles won't accumulate.
The brush is really packed. Dense is the perfect term for it. The bristles are really short, around 1 1/2 cm, which I find just right when you will use this for liquid foundations. Since the bristles are short, the foundation itself will most likely stay on the parts that will touch the skin. Lesser wastage.
So I put the brush to test and see if it can apply foundation really well. As you can see from the photo above, Most of my scars got covered with foundation. This brush really delivers. One concern though is that when you use a small brush, maneuvering is quite a struggle. But, since I wanted a travel foundation brush, I don't mind that at all. I can still make this work and so far, I have gotten used to using this brush already.
What I like:


Travel friendly.


No shedding or bleeding when washed.


Bristles are soft and not scratchy on the skin.


Packs a good amount of product and provides good coverage. Not streaky at all.


Drying is not that long as long as you place the product bristles facing downward.


Affordable.


What I don't like:


Packaging isn't as presentable as  I thought it would be.


It is a bit hard to wash since the bristle are really short. Water gets in the handle.


Ratings:


Packaging: 3.5/5


Effectiveness: 5/5


Softness: 4/5


Availability: 3.5/5


Affordability: 4/5


Overall Rating:
4/5
So that's basically my newest foundation brush. It's really and for sure I will be bringing this during my out of town trips. I think this is a good product to try but if you already own your perfect foundation brush and it is small enough for travel, getting this isn't necessary anymore. Overall, I find this a product worth trying.
As a gift to you, lovely people,
Born Pretty
is giving away 10% discount if you will order from them. Just use my code that is shown on the photo below. Purchase
here
.
Micmic
Disclaimer: 
Product provided by the company for review purposes. Reviews are based on honest opinions about the product.