This is my second box from the 3-month plan I subscribed to at Salad Box. I have told you that some of my unboxing posts are kind of late so please bear with me. I am slowly pacing myself.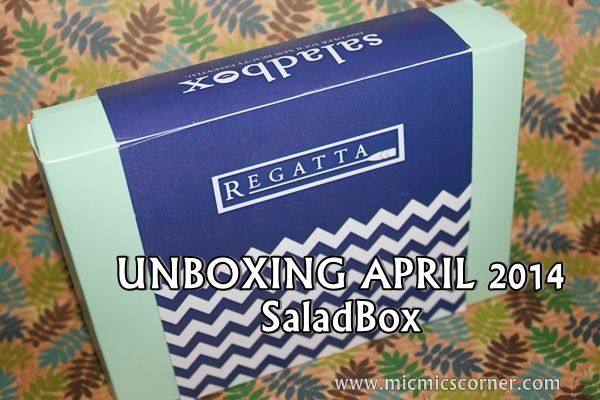 For this box,
Salad Box
teamed up with this local leisure brand called
Regatta
to give us products perfect for summer! These are essential items that we can bring to out summer getaway. I know summer is almost over but we can still go out for one last time before the rainy season, right?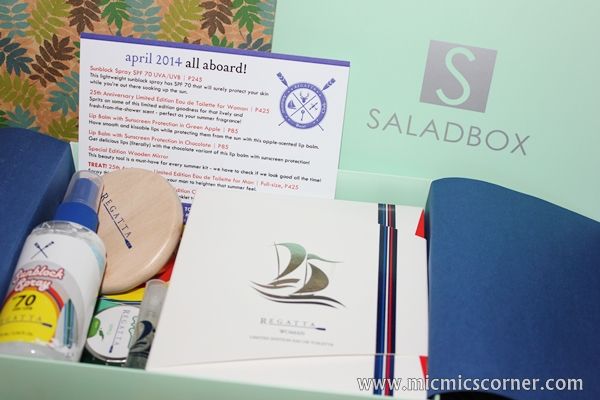 The box is quite full again, same as their March 2014 box. It is not overflowing with items but there are a bunch that I think I am going to like.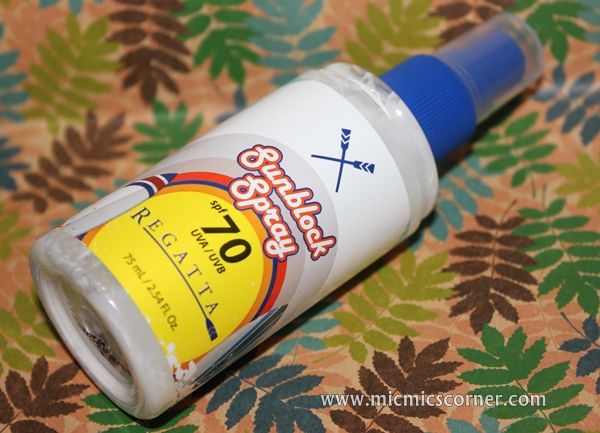 Sunblock Spray SPF 70 UVA/UVB | Php 245
This lightweight sunblock spray has SPF 70 that will surely protect your skin while you're out there soaking up the sun.
This caught my attention. I am not into sunblocks because I've always despised that greasy feeling on the skin. When I first tried this, I thought I liked it because it dries matte but when I brought this to my Cebu trip, I didn't like it when I used it alone. It was hard to even out on my skin.
25th Anniversary Limited Edition Eau de Toilette for Woman | Php 425
Spritz on some of this limited edition goodness for that lively and fresh-from-the-shower scent - perfect as your summer fragrance.
This one smells so good. Fresh is the perfect adjective. I just don't know yet if it will last the whole day on me. Given the price, I'd say I will need to bring this with me to reapply. I am also liking the bottle since it looks so clean and simple.
TREAT! 25th Anniversary Limited Edition Charm Bracelet | comes with EDT
Wear this to the beach as bracelet or anklet to celebrate Regatta's 25th year of stylish existence!
I don't know why they call this a bracelet. To be honest, I don't like the string (I don't know what it's called so let's just call it "string"). I think it doesn't look nice if you are going to use it as a bracelet or anklet. I think I can get the charm and do something else with it.
Lip Balm with Sunscreen Protection in Green Apple | Php 85
Have smooth and kissable lips while protecting them from te sun with this apple-scented lip balm.
Lip Balm with Sunscreen Protection in Chocolate | Php 85
Get delicious lips (literally) with the chocolate variant of this lip balm with sunscreen protection!
I got two lip balms in different flavors. Well, I am not a lip balm person. I am lazy when it comes to that so these items didn't excite me that much. I'd love to try the apple one though but they could have removed one lip balm and added another product instead. That's just my opinion.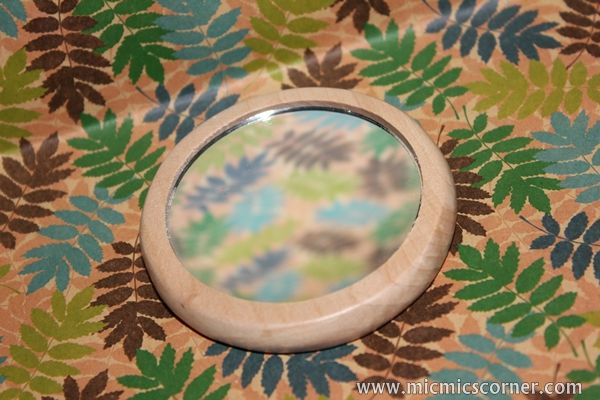 Special Edition Wooden Mirror
This beauty tool is a must-have for every summer kit - we have to check if we look good all the time!
Nothing fancy, just a round-shaped wooden mirror with the brand name printed at the back. This is useful though for touch-ups.
TREAT! 25th Anniversary Limited Edition Eau de Toilette for Man | Full size Php 425
Spray this fresh, summery scent to your man to heighten that summer feel.
I forgot to take a photo of this but you can see from the second photo above that there is a sample EDT in my box. This has a nice smell but I wasn't able to sniff it that much to say that this is a good EDT for men. I will have to let my boyfriend judge it for me. I'll update you.
Want to see my initial reactions regarding the items inside this box? Watch the video below.
That's it for this unboxing post. I hope you enjoyed this. More to come in my next posts. God bless!
Check these to know more about the box and the products:
SaladBox Website: http://www.saladbox.com.ph/
SaladBox Facebook Page: https://www.facebook.com/Saladbox
Micmic