It has been a while since I last updated you with the subscription boxes that I have been getting. That is because I have been busy with some personal stuff. But that does not mean that I forgot to share them with you. I have filmed a video after receiving the boxes. It's just that I can't find time to edit them. Now, I have edited all the videos of my previous unboxing and I have yet to film another one. So be ready to be bombarded with unboxing posts in the coming days. I hope you won't get tired.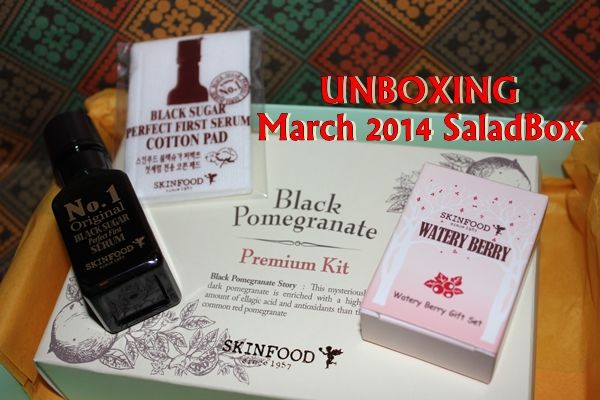 Here's the list of the products inside. Honestly,
SaladBox
has disappointed me back then that's why I stopped subscribing. They are the first subscription box here in the Philippines and I expected a lot from them but sadly, they did not live up to it. When I heard that they've teamed up with
Skinfood
and that their boxes are discounted, I subscribed. I want to give them another chance.
There are only few items inside but since all are from Skin Food, I think they are still worth trying. I have tried some products from that brand and I have nothing bad to say. All of the products I've tried passed my expectations.
Black Pomegranate Toner | Php 1140 for Full Size
This toner is infused with ellagic acid which is a very effective antioxidant
Black Pomegranate Emulsion | Php 1450 for Full Size
This very lightweight emulsion effectively smoothens and illuminates skin.
Black Pomegranate Cream | Php 1675 for full Size
Transform rough skin into a glowing, supple texture after every use of this skin-plumping cream.
Black Pomegranate Voluming Serum | Php  1835 for Full Size
Smooth out wrinkles and hydrate your skin with this wonder serum from Skin Food's newest line.
Black Sugar Perfect First Serum + Cotton | Php 1600 for Full Size
This Black Sugar serum + cotton set will exfoliate, brighten, smooth wrinkles and hydrate skin in one single step - how cool is that?
TREAT! Watery Berry Toner Php 1140 for Full Size
Infused withArctic berries, this dewy moisture toner will turn skin into a soft, glowing texture after every use. Arctic berries deliver a myriad of nutrients that provides ample hydration.
TREAT! Watery Berry Emulsion | Php 1140
A hydrating emulsion that is deeply moisturizing, and yet feels almost invisible on your skin.
I think I got what I paid for. I am subscribed to a Starter Plan so I paid Php 1000 for 3 boxes and since I have an idea on Skin Foods price range, I think this is more that Php 333. I am excited to use the Pomegranate set. Below is my unboxing video. Feel free to watch it and know my initial thoughts about the box and the products.
This may be late but better late than never. My thought on the box and products is in the video I posted. Stay tuned for more unboxing posts. Thank you!
Check these to know more about the box and the products:
SaladBox Website: http://www.saladbox.com.ph/
SaladBox Facebook Page: https://www.facebook.com/Saladbox
Micmic
Disclaimer: Box bought by my own money. I was not paid to do this post.