Good day, loves! I haven't been doing much reviews about soaps basically because most of the time, I just use the ones that are familiar in the market. But ever since I became a fan of fair skin, I just can't help myself but try to look for those that can help me maintain my skin's current condition.
My skin isn't fair, as some of you may have seen in photos. But, to be honest, it has lightened a bit already and all I am doing right now is maintaining it. I get easily dark when exposed to too much sunlight so a good soap that will help me at least retain the fairness that I have is a must and ever since I encountered this soap, I never had problems of being too dark anymore.
I am talking about this
Royale Beauty L-Glutapower Soap
that has glutathione and vitamin E. This was first introduced to me by my mom but I never believed that it actually works until my sister used this. I saw significant changes in the way her skin looked.
Product Information:
Removes dark spots, reduces and gets rid of freckles, age spots, pimple marks. It also whitens, revives and nourishes to make your skin look supple, radiant and flawless.
Price: Php 198.00
130g (Source)
Ingredients, Directions, Manufacturing and Expiry dates:
Again, I am going to tell you that when a product contains all necessary information placed on it's packaging, I am very happy with that.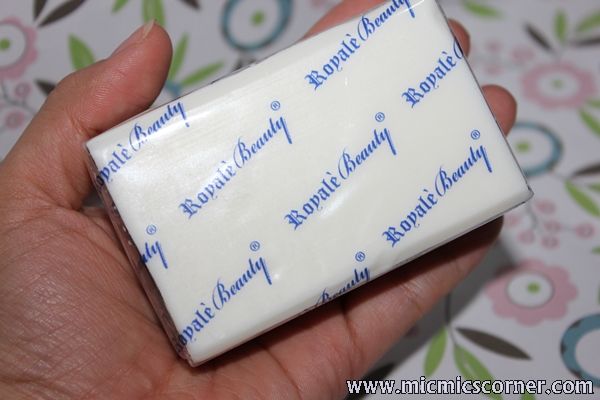 After removing the plastic case, the soap is still protected by a plastic with the product name on it.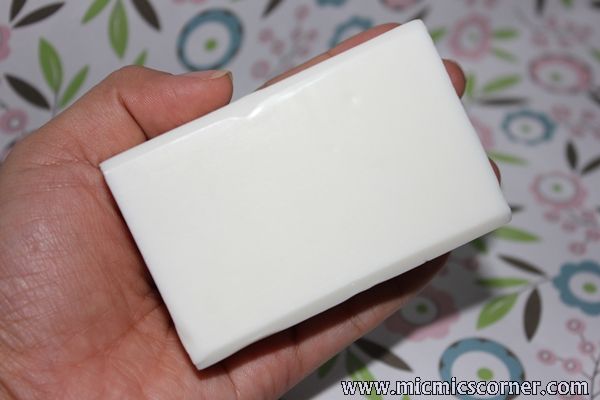 After removing the plastic, you will see a plain white soap with no brand name engraved on it unlike other soaps I have tried.
Another thing I love about this soap is you can actually transform its packaging into a soap holder because inlike paper boxes, this won't melt or get broken when it comes in contact with water.
What I like:


Lathers very well.


Manages to maintain the current color of my skin.


Helped in lightening some spots like underarms, elbows and knees.


No irritations felt even if I use it everyday.


Did not make my skin dry or flaky.


Does not melt easily.


Available locally.


What I don't like:


At first, the scent is somewhat faint floral but it goes off leaving the soap no scent at all. I personally prefer mildly scented soaps. (To some, this is a good thing especially to those who likes unscented ones or those that has really light scent to it so it is a case to case situation.)


A bit expensive for a soap.


Available through Royale Beauty distributors and in Watsons only.


Ratings:


Packaging: 4.5/5


Scent: 3.5/5


Effectiveness: 4.5/5


Availability: 3.5/5


Affordability: 3.5/5


Overall Rating: 3.9/5
This soap is now included in my bath essentials. Whenever I feel like my skin is getting darker than it's usual, I would grab for this soap and let it do its wonders. My mom discovered this first but she stopped using it. Now that she has seen positive effects on me, she started using this again and she even asked if I can purchase backups for future use. I am happy to say that my relationship with this soap is, by far, the best compared to the other soaps I have tried.
You may purchase Royale Beauty products here:
Facebook: 
https://www.facebook.com/royaleph.beautyelite
Instagram: 
http://instagram.com/royaleph_beautyelite
Micmic
Disclaimer: Product was sent for review purposes. I was not paid to do this post.