Hello, my friends! As the title is clearly saying, this is another LATE unboxing post and I won't explain myself anymore because this is getting a habit already. I should just post and stop making excuses. Let me just do my job (even if it's late), eh? But then again, I just want you to know that this is embarrassing.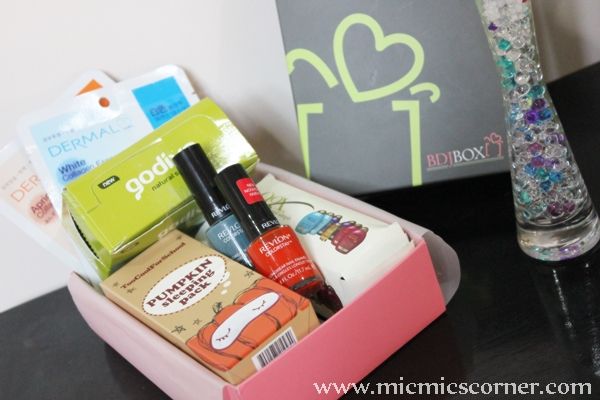 My May 2014 BDJ Box arrived on time. The contents are intended to be enjoyed last summer being the theme for that month is Summer Radiance. Up to now, I haven't touched any of these items. I don't know why but I think it is because I have too much to attend to right now. Oh my, I am explaining myself again. Sorry.
This is not an exclusive box meaning the contents are collection of items from different brands.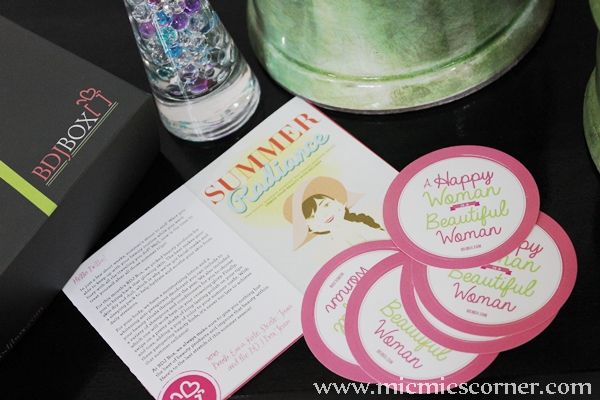 I really adore the stickers included in this box. I want to be forever happy!
Organix Hair Care Set
Php 499 for each bottle (13 oz) - Shampoo and Conditioner
Php 499 for the oil (3.3 oz)
Organix offers all natural shampoos and conditioners for different hair types. For dry and dull hair, Moroccan argan oil restores shine and softness. For thin and limp hair, biotin and collagen infuses and fortifies. For weak hair, keratin oil strengthens and nourishes. Finish your look with a penetrating oil that fights frizz and strengthens your hair.
I have never heard of this brand before but I really want to the this especially the Moroccan argan oil.
Dermal Sheet Mask | Php 140 for 2 sheets
Restore your tired, dull skin to a healthy glow with this moisturizing and revitalizing collagen facial mask. It contains nutritional active ingredients that nourishes your skin and brings back its natural radiance. Choose from 36 different variants to address your various skin concerns - you're sure to find one to love!
I do love sheet masks due to its cooling effect and these two will definitely touch my face, soon.
Too Cool for School Pumpkin Sleeping Pack | Php 689 for 100 ml
A skin renewal sleeping pack that moisturizes, exfoliates, and shields skin from our dry environment. It soothes the skin while removing dead skin cells to reveal a smoother surface. Use it once to twice a week, and let the pumpkin extract and hyaluronic acid work wonders on your parched skin, so you wake up glowing!
I forgot to take a photo of this but you may refer to the first photo above. Since this has hyaluronic acid, which is a known anti-aging component, I think I want to try this as well.
Godiva LicoWhite Whitening Lotion | Php 120 for 100 ml
It not only provides sun protection as it moisturizes your skin, but also helps even out skin discoloration caused by aging, scarring, and pregnancy. It contains Glabridin, a skin whitening ingredient from licorice extract that is both effective and gentle to the skin.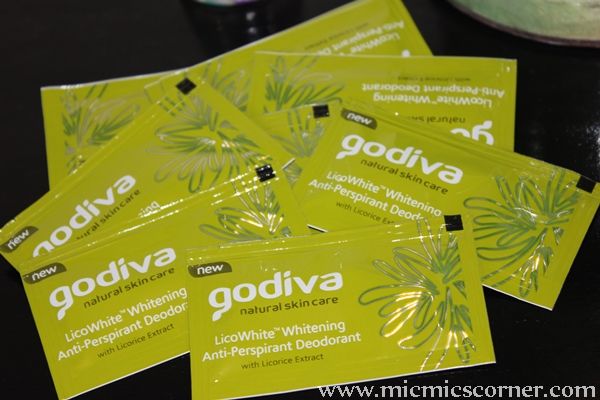 Godiva Lico White Antiperspirant Deodorant | Php 79 for 40 ml
Achieve whiter underarms while protecting it from further damage and darkening. It has Glabridin component from licorice, a powerful skin whitening ingredient that will help lighten dark underarms faster. For best results, apply twice daily on clean skin.
As for the Godiva sachets, I am interested with the deo lotion but I am still thinking if I will try it since I am loving my current deo.
Revlon Colorstay Nail Enamel | Php 325 for 11.7 ml
Color your nails without having to worry about chipping in the midst of your summer getaway! Colorstay Longwear technology seals nails for up to 11 days of lasting color. It has a gel-like finish that keeps the shine longer. Try out 30 gorgeous shades and create the nail look that's perfect for you.
I like the Colorstay nail polishes because they last really long. I have a review about this which you can see
here.
I already claimed my Belle Underwire bra and I like it. It makes the box so worth it.
I was one of the lucky ones to receive the golden ticket that entitled me to a free pair of Salvatos slippers. I gave this to my mom though because I got the wrong size.
Overall, I think the contents of the box is okay. It is not as extravagant as the previous boxes but I still got more than what I paid for. If I were to sum up he total price of the full sized products, it would be Php 1479 and the vouchers and pair of slippers are not included yet. Those nailed it, at least for me but if they did not include those, this will be just an ordinary box for me so thanks BDJ for adding the free gifts.
See my unboxing video below.

Check these to know more about the box and the products:
BDJ Box website: 
http://bdjbox.com/
BDJ Box Facebook page: 
https://www.facebook.com/bdjbox
Micmic