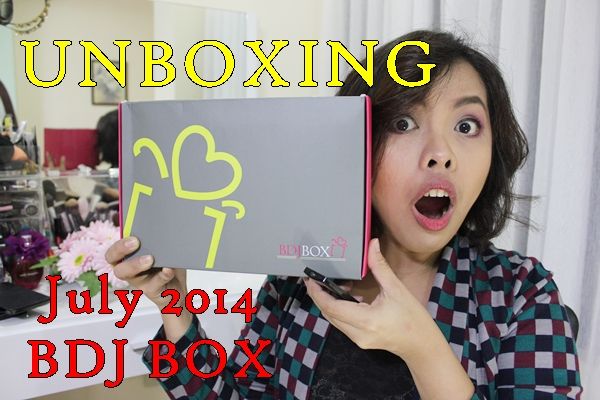 Finally, this is my last unboxing post for a beauty subscription box for this month. That is because I have not subscribed to anything this August. I feel so broke I had to lessen my splurge on this stuff. Well, I am also cutting down my money-spending on beauty products because I feel like I already have a lot to work with. Not that I am complaining because I love playing with my makeups. To me, they are my little babies and they make me happy. It is just that I need to save money too. But I do accept gift, haha!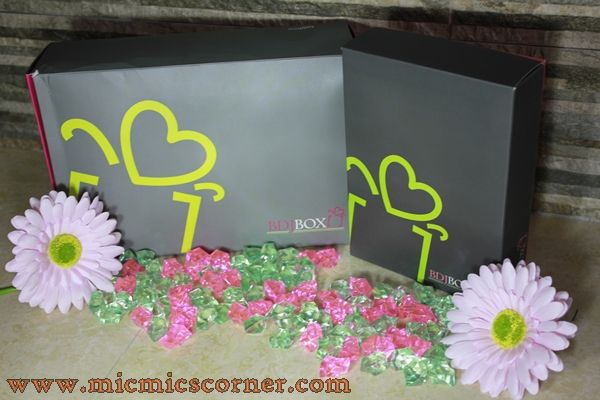 For this post, I will be sharing with you the latest BDJ Box I received. This is their box for July 2014. It arrived 31st of July and I got surprised by the size of the box. It is pretty huge, similar size to the Elite boxes. I posted a photo immediately on IG without checking what's inside. I think some people got really excited to see a huge box from BDJ. It is double the size of the usual BDJ box.
Upon opening, this are the items I saw. To be honest, my smile went away for some time. I expected way too much. Well, maybe because they made us wait for quite a long time and the box is huge that it added to my high expectations of the items inside. When I opened it, I saw familiar brands like Nivea, Celeteque and Hygienix. Not only are they familiar brands, but the items aren't new to me also. So there goes my few minutes of sadness. LOL!
Then, the stickers that never failed to make me feel happy about myself. These are very empowering and motivational.
Let me show you photos of the items and their brief description.
Keratin Complex Travel Valet Care Kit | Full Size in 89ml each and the set is for Php 495
This shampoo and conditioner duo from Keratin Complex was developed to provide a gentle cleansing that will not diminish the precious nutrients of healthy hair. This sodium chloride free formula is recommended for dry chemically over processed or damaged hair.
My first product from this brand. I am excited to try this because Keratin is really popular right now and I just have to try it myself.
Pink Sugar Fine Fragrance Mist | Full Size in 250ml
Php 299 each, Fruity Collection
Php 349 each, Happy, Dreamy and Naughty Collection
Fall in love at first spritz with Pink Sugar's 12 various scents, grouped into their Fruity, Naughty, Dreamy and Happy Collections. You're sure to find one that will suit your every mood and emotion. Use it throughout the day as a refreshing way to feel and smell great!
I am lucky to get a body mist that I like. The scent is very fruity but, surprisingly, I like it. I am not sure but I think it has a similar scent to VS Love Spell.
Celeteque Back Acne Spray | Full Size in 50ml for Php 320
Formulated with salicylic acid, which exfoliates the skin and works to reduce blemishes and acne. It also contains gluconolactone, which gently removes the build-up of dead skin cells, helping to prevent future breakout. Spray after bathing and make sure to let it dry completely.
I will give this away. I just don't know yet if via giveaway or to the people I know. Well, if it can be used for the face, I would keep it. HAHA!
Enchanted Eyeshadow Palette | Full Size in 6g for Php 199
This long-wear eye shadow palette contains 3 shades that allow you to add depth and drama to your eyes. Swipe on the lightest shade as an overall color while using the medium shade to contour, then use the darkest shade to line your eyes.
Another neutral palette for me. I will keep this for travel purposes.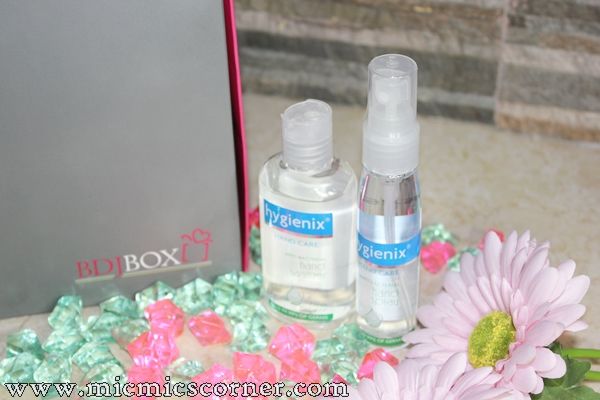 Hygienix Hand Gel | Full Size in 100ml for Php 45
Fight germs, while keeping your hands nourished and refreshed wherever you go.
Hygienix Hand Spray | Full Size in 55ml for Php 40
Keep your hands soft, smooth and moisturized on the go!
Do I need to elaborate on these items? Well, Let's get germ-free, baby!
Vitress Instant Relax | Full Size in 30ml for Php 75
Make your hair look naturally straighter and smoother.
Vitress Hair Solenn | Full Size in 30ml for Php 80
Tame curls and waves and rock a smooth, silky, shiny 'do.
Not a user of Vitress even before. I have oily scalp and I just don't like the feel of hair oil, serums and leave-on conditioners. But I might give the 'Solenn' one a try.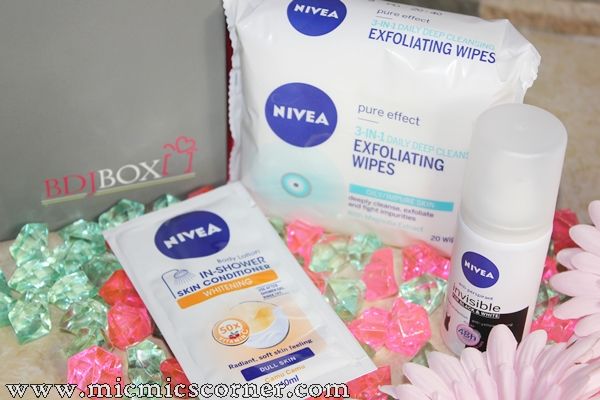 Nivea Travel Kit
Nivea Pure Effect Exfoliating Wipes | Full Size with 20 wipes for Php 139
Your handy cleansing and exfoliating facial wipes you can take anywhere!
Nivea In Shower Skin Conditioner | Full Size in 100ml for Php 109 
(I got a sachet sample)
Replenish your skin moisture without that hot sticky feeling.
Nivea Anti-Perspirant Invisible Spray | Full Size in 150ml for Php 184
(I got the one in travel size)
Say no to cloth stains and stay protected from sweat and body odor.
I have tried the anti-perpirant and it does the job but I am not impressed by it. So-so, I guess. But I am definitely sure I want to try the exfoliating wipes.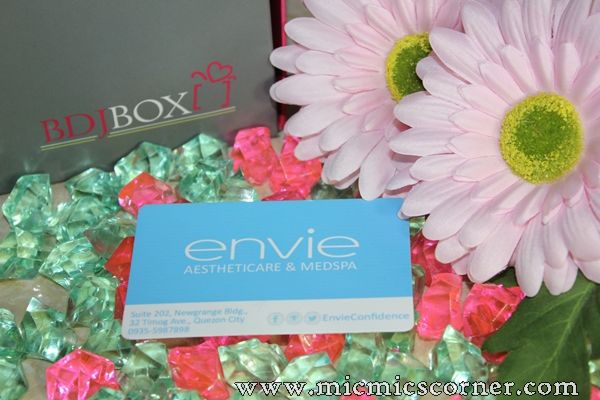 Gift VoucherEnvie Aestheticcare & Medspa
Choose your free service from the ff: Diamond Peel, RF Slimming, Cavitation, or IPL (one area) treatment.
Whew, IPL Treatment! Should I try?
I filmed an unboxing video for this box. It is in TagLish (tagalog-english). Please watch it below.
So there you go, my July 2014 BDJ box. Is it worth it? I paid Php580 for this box and the amount of all the full sized products is Php 1692. For the price, yes, the box is definitely worth it. The contents aren't new but very usable. Is it a box worth-waiting for? I think it is a no for me. To make up for the late box, I hope they included at least one striking item. Something that will excite the subscribers. Also, the eyeshadow palette is a repeat item. It was featured in one of their previous box (not subscribed to that tho).
I hope you find this post interesting and helpful. See you on my next one.
Check these to know more about the box and the products:
BDJ Box website: 
http://bdjbox.com/
BDJ Box Facebook page: 
https://www.facebook.com/bdjbox
Micmic