Hello, everyone! I am here again to share with you the items I got with my
May 2014 SaladBox
. I actually wanted to skin this post because I am not impressed with what I received but I think it is still worth sharing because other people might find something good with this post. It may also help them in deciding whether to subscribe or not.
For May 2014, the theme is
Runway Ready
and it contains five items inside (samples and full size) plus a voucher. I actually didn't take a photo of the voucher because it is a personal voucher for me if ever I want to subscribe again. But, I think it won't happen anytime soon. Maybe in the future. But definitely, not now.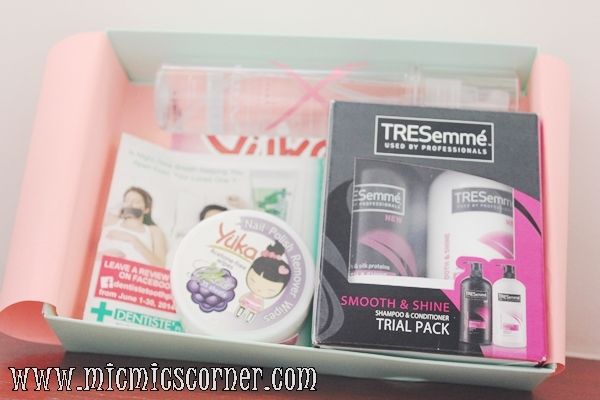 As you can see, the box still has a huge room left even when filled with all its contents.
TRESemme Smooth & Shine Shampoo | Full-size' price P365
This shampoo effectively calms away frizz and tames flyaways - runway ready hair!
TRESemme Smooth & Shine Conditioner | Full-size' price P365
With vitamin H and silk proteins, this formula smooths flyaways for soft and silky hair.

I like this set but I don't like that SB separated these in the description card. I mean, they could have added more. I have tried a conditioner from this brand and I am loving the effects on my hair.
Dentiste Plus White Nighttime Herbapeutic Toothpaste | Full-size' price P289
Perfect for those aftershow parties (or daily conversations), guaranteed fresh breath!
I want to try this because I am thinking of changing the brand of my toothpaste. I haven't seen the product inside yet but I am hoping that the color of this one is white because that's what I wanted in a toothpaste.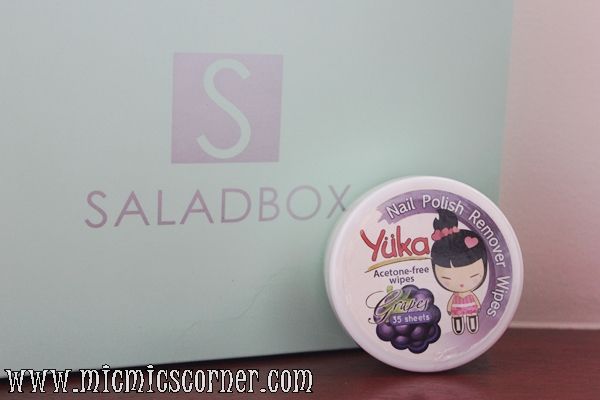 Yuka Acetone-Free Nail Polish Remover Wipes in Grapes | Full-size' price P65
Get rid of unsightly cracked nail polish with these polish wipes - they're acetone-free!
I hope this is not as oily as the one I have tried before. I hate having oil on my fingertips.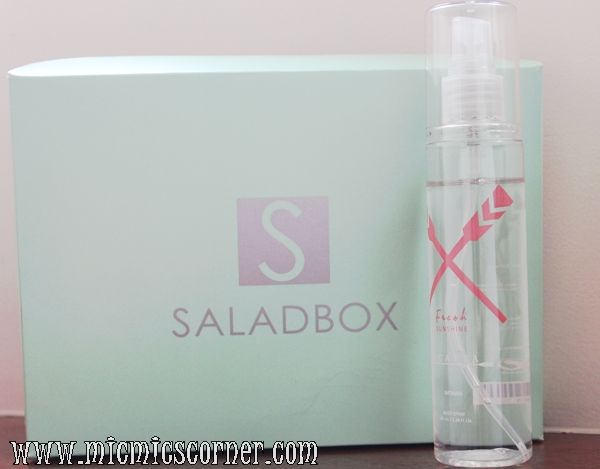 TREAT! Regatta Fresh Sunshine Body Spray | P245
Looking good on your personal runway is always better when you also smell good!
As you can see, I have already used a good amount of this body spray. I like the scent a lot but it doesn't stay that long.
Do I still have to compute? I only got two full-sized products (Yuka and Regatta). I thought SaladBox is starting to give nice boxes but I was wrong. I am disappointed with this box. I like the hair care products and the body spray. I am interested to use the toothpaste BUTI still feel that something is lacking. I am not subscribing again for the next few months. I don't know if I will subscribe again in the future but as for now, I will stop.
Watch my unboxing video below.

That's it for this unboxing post. I still have two more to post and I will do it ASAP after this.
Thanks for reading this.
Check these to know more about the box and the products:
SaladBox Website: http://www.saladbox.com.ph/
SaladBox Facebook Page: https://www.facebook.com/Saladbox
Micmic