I tried searching and I found out that the first and last favorites post I posted here was for July 2012. Seriously? Haha! I didn't know. And last August, I finally had the time to film and upload my July 2014 favorites video. But, I guess YouTube consumed most of my time that I neglected my own site. But, better late than never. Here's a list of the products I loved last July. Tonight, I will film my August favorites and I promise to publish it here.
Let me now share with you my favorite items last July.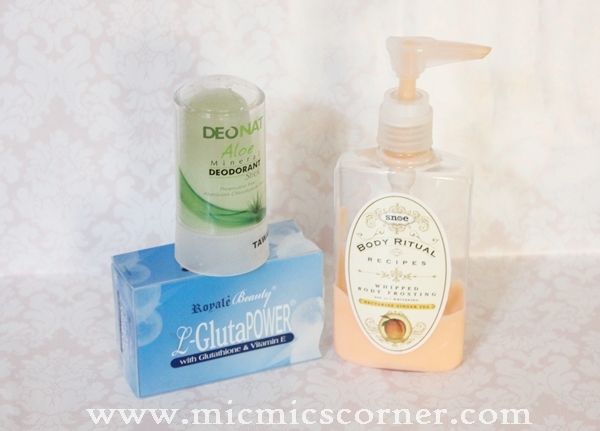 1. Royale Beauty L-Gluta Power Soap 
I must admit, this is one of the best skin whitening soaps I have tried. It is on the pricey side though but it worked.
2. Deonat Aloe Mineral Deodorant 
Unscented 
tawas 
stick that helps my underarms keep dry and odor-free. This one will last you along time.
3. Snoe Body Ritual Recipes Whipped Body Frosting in Nectarine Ginger Tea
This smells amazing! Another thing to love is it gets absorbed by my skin so quickly that I do not need to worry about getting sticky or slimy.
4. Royale Beauty L-Gluta Power Anti-Ageing Soap
I consider this my holy-grail facial soap. Yes, it is expensive but every time I use this, I get comments from the people around me that I have nice looking skin. Please watch out for my review. You may purchase this
here
.
5. Alba Botanica Daily Detox Foaming Cleanser for sensitive skin
I use this alternately with the L-Gluta Power Anti-Ageing soap because I want to prevent my skin from drying. I have mild psoriasis so it can get really sensitive at times. This is really mild and has a nice fruity scent.
6. Royale Beauty Pinkish Glow Toner
I use this together with the cream that I will be mentioning below and the result it gives me is brighter skin with a nice glow. It helps in drying out pimples but not as quick as the other toners I have tried.
7. Royale Beauty Pinkish Glow Brightening and Smoothening Cream
I have a love and hate relationship with this one. I love the glow it gives my skin but whenever I use this under my makeup, I normally get oily especially on my nose area.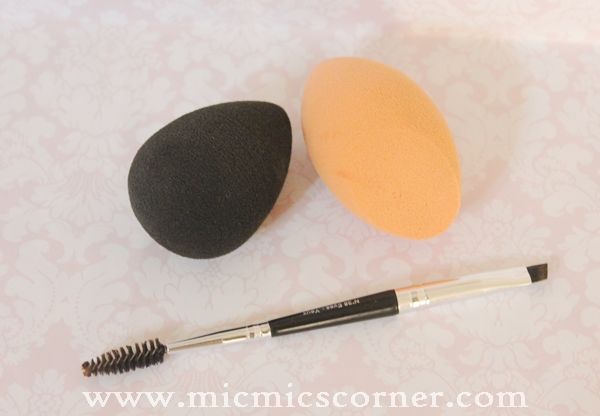 8. Beauty Blender9. Real Techniques Miracle Sponge
These two sponges are my favorite tools to use for my liquid and cream foundations, concealers and blush. So far, I like them both.
10. Marrionaud N38
This is my most used brush of all time. I am a brow freak and I use this every time I go out. I have two of this so that I have a back up when the other one is dirty.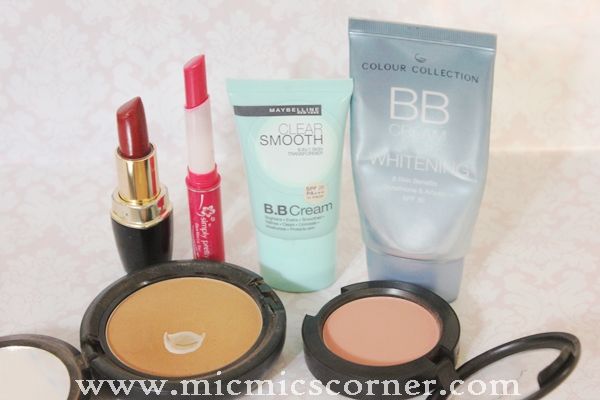 11. Colour Collection Vitamin E Lipstick in Red Wine
I just love this so much! My most favorite red lipstick at the moment.
12. Avon Simply Pretty Dew Kiss Lip Tint in Dewy Rose
I normally use this when I feel lazy to put too much makeup on but I want a hint of color. This is moisturizing but the tint isn't long lasting.
13. Maybelline Clear Smooth 8-in1 Skin Transformer BB Cream in Fresh
For quick errands, I like using lightweight products and this one is my most used last July. It felt really light and evens out my skin without giving too much coverage. It looks really natural. This one isn't that long wearing tho.
14. Colour Collection Whitening BB Cream
I love this bb cream so much. The undertone is yellow and coverage is medium. It lasts longer than the Maybelline one.
15. FS Cosmetics Two-Way Cake in Rajah
This is the only bronzer I use making an instant entry to my favorites' list. I have
16. MAC Matte Blush in Melba
My first ever Mac blush and I got this when Ms. Gem or Rare Vanity had a blog sale. This baby is the bomb! Not exaggerating or anything but I love this so much. It lasts pretty long too.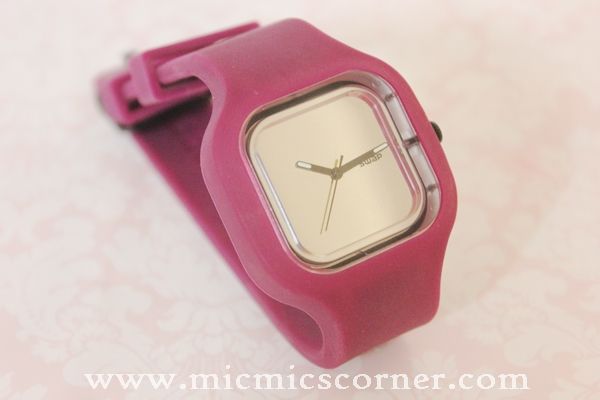 17. Swap Watch by Tomato
This was given to me as a gift for my birthday. I got this a week before July ended. But ever since I got it, I have been wearing it almost every time I go out (we're still talking about July, okay?). I got two colors of the strap, Magenta and Dark Green/Olive, I am not sure with the color name but I know you are getting what I mean. I love both colors but during the time I needed a photo, I can't find it.
These last two products are still part of this but I forgot to take pictures.
18. L'oreal True Match Super Blendable Concealer in light/medium
By far, my most favorite concealer. It stays put the whole day and the coverage is really awesome!
19. Snoe Waterproof Eyebrow Gel Corrector in Khaki
Another amazing product because it gives my brows nice definition and lasts the whole day on me even if I sweat or rub my face/eyebrow area a lot.
So those are my favorite products or items last July. As you can see, I have a lot. Well, for me that is a lot already.
Do you also have these products in your collection? What do you think about them? Please share your thoughts below.
Micmic