Hello everyone! I am here again to do another review for you. I have been trying to be as productive as I can be here and in my Youtube channel. So far, I think I am doing a pretty good job. I hope I can keep this pace until the year ends. Well, I am giving myself until December to do blogging and we'll see if I can still pursue it. I am still hopeful tho.
For today, I will be talking about my recent gel liner which is the
L.A. Girl Gel Liner
and the shade I am using is
dark brown
. I have seen quite a few Youtubers use this and they have nothing but good words about it. One particular thing that they said that made me buy it is that this does not dry up in its jar even after a long time.
See the video below if you want to know my first impression review about this product.
L.A. Girl Gel Liner | Php 249
Shades: Very Black, Dark Brown, Brown
Available in SM Department Stores, Sta. Lucia East Grand Mall and in some online shops
This gel liner has a rich and creamy water resistant formula that glides on smooth without smearing or smudging for long lasting, all day wear. Professional fine eyeliner brush expertly defines eyes to create that ideal smokey or dramatic look effortlessly. (source)
The jar and the brush are both placed inside a box that actually contains the details about the products (please refer to first photo). The product itself is housed inside a small frosted jar with a black plastic cap. For Php 249, I believe the packaging does not look cheap at all. In fact, I think the frosted glass looks classy but is fragile so be careful if you are going to bring this for a trip.
It came with a small applicator which I really love. It really spreads the product nicely not just on my eyelids but on the eyebrows as well. The tip is really thin for that defined winged eyeliner.
Ingredients, How to use the product, Precaution measures to observe
Swatch (left: without flash; right: with flash)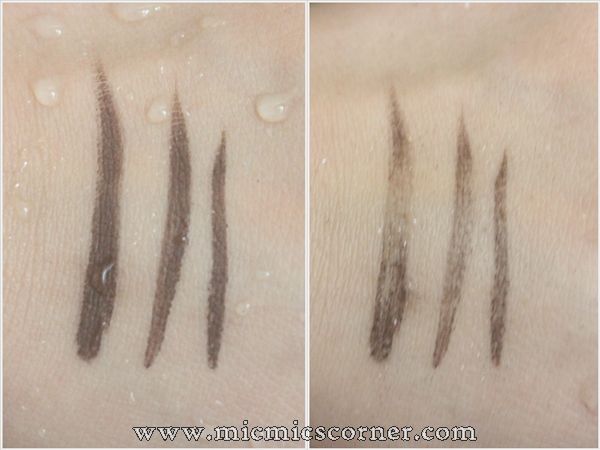 Water Test
Of course, water test is mandatory. After lacing it under running water, the product didn't fade but after being under water for few minutes, I tried rubbing it off and the product did fade.
I was told that this product is okay to be used on the eyebrows and being an eyebrow makeup junkie, I did what I was told. Truth be told, the effect was really amazing. Whenever I want darker and really defined eyebrows, I usually go for this. On the photo above, I used the L.A. Girl Gel Liner in dark brown alone. But on my next attempt in using this, I used a brow gel on top to extend its longevity. When you are going to use this for the brows, make sure you get very little amount of product and build it as you go.
As an eyeliner, I love how it glides smoothly with the need for me to tug my eyes. As much as possible, I try to avoid that. It is extremely pigmented and sets nicely. I like the fact that it doesn't set immediately making room for perfecting the edges.
After 8 hours of wear, and after sweating too much (as you can see from the photo), the front and end part of my eyebrows looked faded a bit. It faded in areas where I don't have much eyebrow hair. But, if you watched the video above, I tested it for few hours and it did stay put.
The wing of the liner smudged on the lower rim of my eyes. Take note that I sweat too much and I rub my eyes most of the time. I tried reapplying the liner and the application is still smooth, as if I was applying it for the first time and not as a touch up.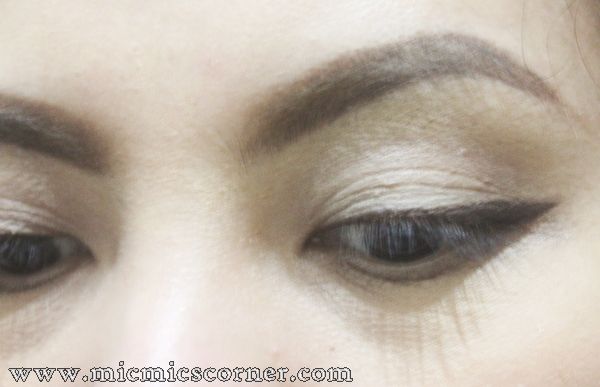 I used it again and this time, I used a brow gel on top (for the brows) and brown powder eyeshadow to set the gel liner (for the eyelids). For more than 7 hours, it did not fade  or budge. It was in tact the whole day to think that I did commute and battled the heat of the sun. Since then, I knew what to do with this item. Also, when I tried this trick, I received a lot of nice comments about how it looked on me.
What I like:


Affordable


Available in 3 shades: black, dark brown and brown


Available in leading department stores and online


Nice packaging for its price


Has complete list of ingredients and shelf life printed on the box


Has a very useful brush


Pigmented


Unscented


Creamy in consistency and very easy to apply


When used alone, the product will last up to 5 hours without budging or smudging


Can be used as eyeliner and eyebrow product


What I don't like:


It did not last for 8 hours on me when used alone. It needed the help of a brow gel and powder eyeshadow (I have oily eyelids).


Brown shade is always out of stock in the kiosk near my place.


Ratings:


Packaging: 4/5


Consistency and Pigmentation: 5/5


Shade selection: 3.5/5


Lasting power: 3.5/5


Availability: 4/5


Affordability: 5/5


Overall Rating: 4/5
Although it did not last up to 8 hours on my first try, this is still my most favorite gel liner to date. With a little help from other makeup products, this gel liner will definitely last the whole day on oily eyelids like mine. I like the creamy consistency and ever since I got this, it didn't change. Other liners will show some dryness already but this one is still as good as new. This product will last you a long time because of the extreme pigmentation; little amount goes a long way. The shade dark brown is perfect if you want defined eyes but does not want the boldness of a black liner. I am actually going to buy the brown one once it's already available.
 Do you use gel liners for your eyebrows too?
Micmic