Good day, my lovely online buddies! You know how much I have been busy the past few months that I don't get to update this site every so often. But lately, time has been good to me. I am becoming more active again.
Today I want to share with you the contents of my
September 2014 BDJ Box
that I received around 2 weeks before the said month ended. I am just estimating because I forgot the exact date already. I am actually waiting for October box already. I am so excited, as always.
As you can see, the box is again filled with a lot of goodies inside, mostly full-sized. I normally get eager to see what's inside the box when I feel that it is heavy and loaded.
Let's see the items, shall we?
If you like a unboxing video, here it is.

Of course, a BDJ Box won't be complete without a message from the BDJ team and the stickers. The theme is
Beauty Innovations
. The products inside are from well-known brands that underwent improvements and innovated their products. As for the sticker, yes, it is always better if you just stay positive and see the beauty in everything.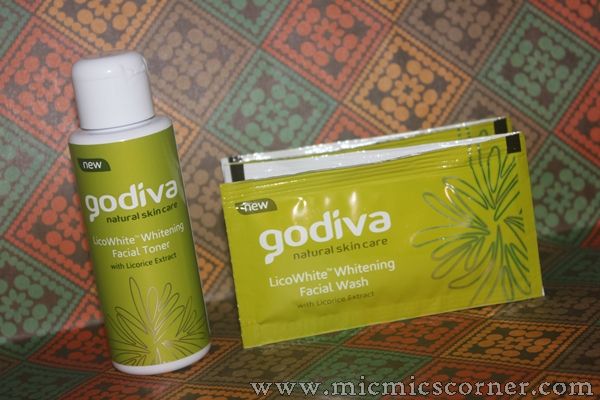 Godiva Cleansing Kit
Godiva LicoWhite Whitening Facial Wash, 50ml | Php 85
Its low-foaming, soap-free formula is infused with Licorice Root Extract, to gently cleanse your skin, leaving it with a softer, smoother glow.
Godiva LicoWhite Whitening Toner, 60ml | Php 60
Get longer-lasting whiter skin with this toner formulated with Glabridin, to effectively even out skintone and get rid of stubborn makeup gently. 
I am not excited with the sachets but since I love toners and I normally finish a bottle very quickly, the whitening toner will definitely get it's turn in my skin care routine.
Pond's Dewy Rose Ge, 10g | Php 150 (2pcs)
Dewy, soft skin is now easy to achieve with Pond's Institute's newest formulation, Flawless Dewy Rose Gel. This whitening gel is infused with Rose Lumiere Serum that goes deep into the skin to lighten dark spots and smoothen pores outside giving you that rosy glow you've always wanted.
I have tried smelling this and I must say, it smells so good. I have used gel-based products before and absorption is really remarkable so I am hoping that it is the same with this one.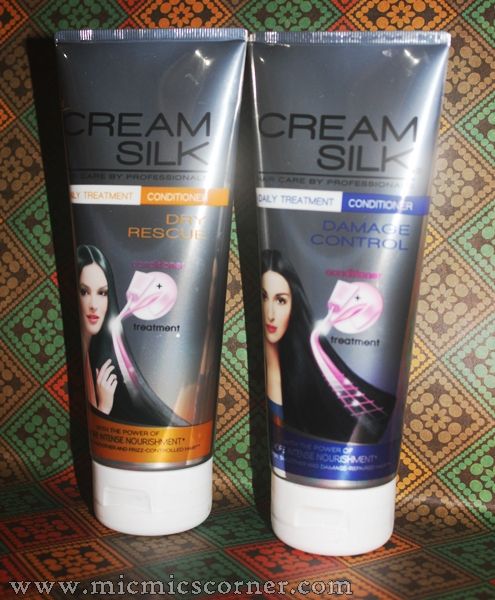 Cream Silk Daily Treatment Conditioner, 180ml | Php 134 (2pcs)
This product combines the benefits of a weekly hair treatment with the speed of a daily conditioner. It's formulated with a Vita-boost Complex that deeply penetrates the hair strand to nourish it from within. Use it in place of your regular conditioner to pamper your hair every day. With 4 variants to choose from, you're sure to find one that addresses your hair concerns.
Not a Cream Silk user anymore, ever since new brands with a lot of potential bloomed. But, I can still remember when I was a kid that when you say "conditioner", it is definitely from this brand. I am excited to know how they improved their products.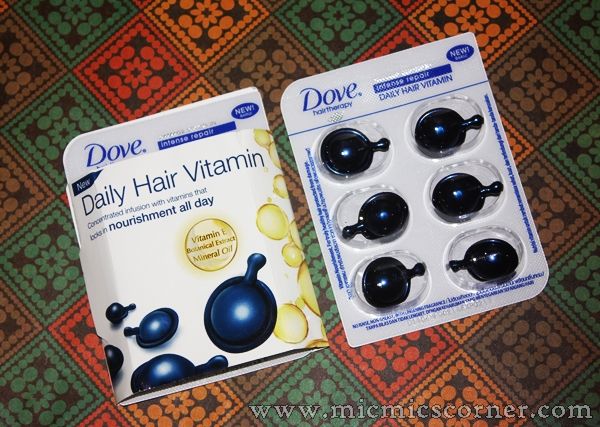 Dove Intense Repair Daily Hair Vitamin, 6ml x 6 capsules | Php 75 (2 sets)
Lock in nourishment for your hair the whole day by using these newly launched hair vitamin infused with Vitamin E and botanical extracts from Dove. Packaged in individual capsules to keep the formula fresh, simply cut out the end to squeeze the contents on your palms and apply to the middle section of your hair down to the tips for long lasting shine and smoothness.
Again, another product I am so intrigued to try. I normally see something like this in Watsons (from different brand) and I normally just look at it but I never had the urge to buy it. Now, I don't need to buy one because it is included in my box and I can now try it. I have seen Yette's favorites' post and she included this so that makes me more curious.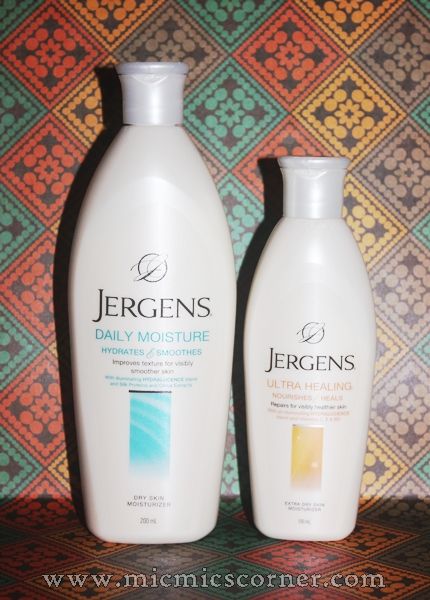 Jergens Moisture Pack
Jergen's Ultra Healing Lotion, 100ml | Php 88
Be the first to try this newly re-launched body lotion that's formulated with a Hydralucence Blend to go deep beneath skin's surface to heal dryness at the source.
Jergen's Daily Moisture, 200ml | Php 153
Infused with moisturizing Silk Proteins and a Citrus Extract, this reformulated lotion leaves the skin looking and feeling silky and smooth all day long.
Just like Cream Silk being on top when you say "conditioners", when you say "lotion", Jergen's is always on the top of the list. My mom and some of our house helpers will buy those huge bottles, the one with pump.
 Beach Hut Clear Spray, 180ml | Php 390
Gone are the days of having to spread that sticky, messy sunblock on your skin! Stay longer under the sun without worrying about those harmful rays. It provides better, easier and even application than your ordinary sunblock lotion. Just spray and go!
I am not sure but I think I encountered this in one of those reviews from different bloggers. I think I saw a remark that this is not sticky. So I am hoping because I never really liked the feel of sunblocks that's why I tend to skip them. Bad, I know. But I just cannot stand the sticky-icky feel.
FS Single Eye Shadow, 4g | Php 150
These easy to blend powder shadows from FS are a great way to build up your eye shadow collection. They come in varying finishes – shimmer, matte, satin and glitter that you can mix and match to create the look you want. Their silky textures make it easy to blend on your eyes and also prevents product fallout.
I would love to own a customizable palette, and I now have a chance to combine four colors and create a quad palette. Three more colors and the palette itself and I am good to go. Thinking of what other shades to get.
FS Gel Liner, 5ml | Php 299
Say goodbye to your pencils and hello to this gel based eyeliner from FS! It's soft on the lids and rich in definition, so you can easily define your eyes. It comes in a 5ml elegant glass bottle and also comes with a free brush! It glides on smoothly helping you effortlessly achieve the look you want.
I love the color of this one. It is like a chocolate brown eyeliner which I think will look better on my eyes since black makes me look
masungit.
I hope it is as creamy as my current gel liner.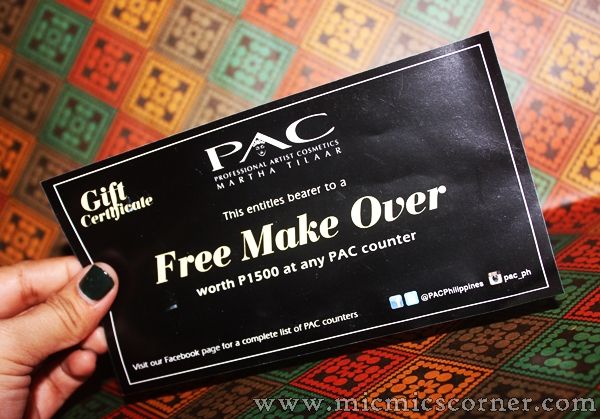 PAC Make Over Voucher (worth Php 1,500)
Get a brand new look from the PAC Makeup Experts!
My second PAC voucher. I might give them to those who can use them.
So those are the items inside my September 2014 BDJ Box. I computed the prices of the full sized products and the total is Php 1858 (sachet and voucher value are not included). I spent Php 580 for the box and again, I got more than what I have paid for. It is always a good thing when that is the case but it feels so much better when you know you can use almost everything inside your subscription box. I think you can feel that I like this box a lot. Every item, I think, is worth a try. Well, the sachets and the voucher is just so so for me but it won't be out to waste. As I have said, I can give them to those who can use them.
I hope this post was able to help first time subscriber of any subscription box to see if BDJ Boxes are worth the hype. I hope you can try at least one box and see if you're going to like it.
Check these to know more about the box and the products:




BDJ Box website: 

http://bdjbox.com/


BDJ Box Facebook page: 

https://www.facebook.com/bdjboxMicmic