Hello again! I just want to share this to those who does not know about this website that sells a LOT of Korean cosmetics and they ship WORLDWIDE. How awesome, right?
I, for one, like Korean cosmetics because so far, almost all the products I have tried that were made in Korea are really great. No wonder, Koreans have really nice skin.
So, what is 
WISHTREND
 all about? Basically, it's an online shop that is based in South Korean but ships products everywhere in the World.
"WISHTREND IS HERE FOR MORE BEAUTY"
 WISHTREND EXISTS FOR ONE SIMPLE MISSION : HELP YOU TO BE MORE BEAUTIFUL.
 We are believing that as long as you 'WISH' to be beautiful, you will be beautiful.
 We explore all over the world to find the best cosmetics 
 and introduce them to the beauty inspiring explorers.
 Of course, those amazing stuff which we discover will be delivered to your front door. (
source
)
I don't know about you but I really want to be more beautiful. I love exploring and being able to find what suits me best.
Want to know the story of WISHTREND in giving the best beauty products around the world?
"AS LONG AS YOU 'WISH' TO BE BEAUTIFUL,
  YOU WILL BE BEAUTIFUL WITH WISHTREND.COM"
 ALL WOMEN DESIRE TO BE BETTER AND MORE BEAUTIFUL IN THEIR LIVES.
 WE BELIEVE THAT THE BASIC THING TO BE MORE BEAUTY IS TO USE WELL-QUALIFIED
 COSMETICS IN DAILY LIFE.
 WE ARE HERE TO MAKE A PLACE. YOU CAN FIND THE BEST SOLUTION FOR BEING BETTER YOU.
  01 / EXPLORE, THE BEST COSMETICS EVER ! 
 We are looking for the best cosmetics that have not been participated in various distribution networks.
 We crucially focus on the cosmetic researches and try several tests to find out the best products for our customers.
  02 / REVEAL, THE OUTSTANDING FEATURES 
 We share and deliver our knowledge on products we have found, know-how to be more beautiful.
 We introduce our products at wishtrend.com to make it easier for understanding and seeing the features.
  03 / DELIVER, TO THE WORLD IN SAFE CONDITIONS 
 All the products displayed on Wishtrend are able to be delivered any place in the world.
 We use safe air caps and solid boxes. We deliver the products through each country's postal system.
 If you use EMS Service ,it's possible to trace what you buy on Wishtrend.
They don't just sell, they find the best products first and know the best features of those products then they eventually, share it to the world. Should you decide to purchase, the products will reach you safe and sound. (
source
)
Why choose 
WISHTREND
? Since, this is quite long, you may click 
here
 to know why you should choose 
WISHTREND
.
What I find nice about their site is everything is categorized accordingly. All you need to do is select a tab that you think will suit your needs.
Aside from selling the best beauty products, they also have this 
Wish Box
 wherein you get to buy a set of products (new set every month or season, methinks). With this, you get to try products that are not easy to get.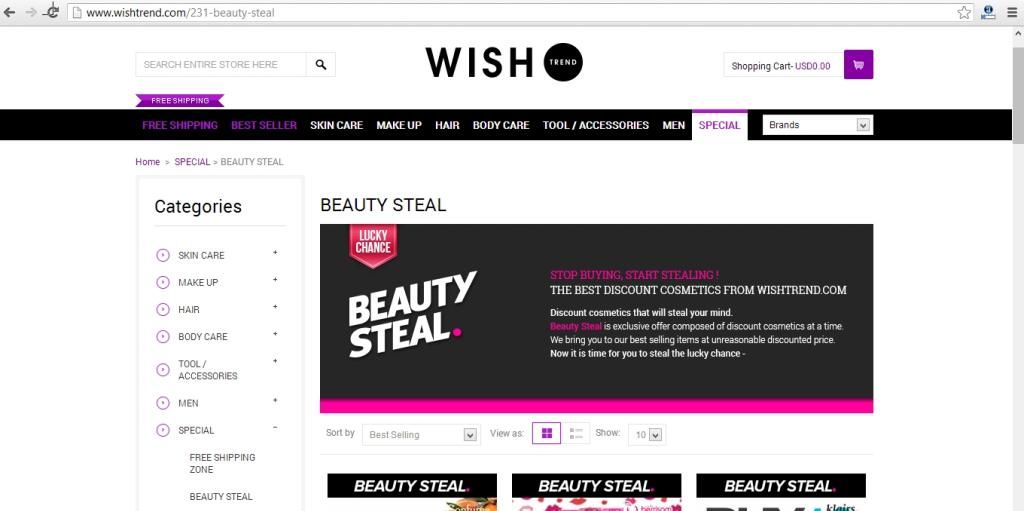 Another awesome thing, the 
Beauty Steal
. Products included here are either on sale or does have a freebie or even both. This, by far, is my favorite. :)
Lastly, I want to share with your the how they ship items.
"WISHTREND HAS SHIPPED KOREAN BEAUTY
  ALL OVER THE WORLD"
 ALL ITEMS PROVIDED BY WISHTRED.COM WILL BE SENT WITHIN 1 TO 3 BUSINESS DAYS 
 AFTER THE CONFIRMATION OF THE TRANSACTION. 
 THE FOLLOWING IS AN OVERVIEW OF OUR MAJOR SHIPPING METHODS.
Click 
here
 to learn more about the zones and rates plus the ways on how to avail of free shipping.
UPDATE:
Below are my top 3 picks from their site as of the moment.
I have never used a vibrating brush in cleaning my face and I have seen other beauty bloggers use something similar to this which gained a lot of raves. I want to try it out myself.
In one of Wishtrend's youtube video, they used this as a contour cream and Bronwyn showed that this is very easy to use as such. I have been wanting to own a product like this.
With lip products, it is either I go nude or dark. It is very rare that I go in between (it happens tho). This one looks really interesting.
That's it. Be sure to check out WISHTREND so you won't miss on those great products that will surely help your skin. Below are the links of their accounts that you can check out.
Micmic
Disclaimer: All photo credit to Wishtrend.