Good day, fellow beauty enthusiasts! Are you excited for the weekend? I am! I am hoping to have at least few hours of me-time. But before that, let me share with you another Unboxing post.
Around last week of October, my BDJ box arrived. They are late again but I did not worry at all because I know my box will still arrive no matter what. And when I got two boxes, I totally told myself that BDJ is trying to make up for the late deliveries. If you want, you can go and watch my unboxing video.
The theme for this month is
Skin Savers
, and it basically covers almost all that we need to have supple and firm skin and not just that. They also have something for the crowning glory. Of course, a BDJ Box is not complete without the stickers. Every person has something good in their hearts. Show it and spread the love. Let's not move on with the contents of the two boxes.
 Dial Cleansing Pair
Dial Coconut Water Body Wash, 473 ml | Php 200
The first of its kind to contain coconut water, this hydrating body wash gives you youthful skin every time you shower.
Dial Coconut Water Soap, 113g | Php 140 for Trio Pack
This bar is infused with moisture from coconut water and bamboo leaf extract, to hydrate your skin naturally.
Between the two Dial products, I am more excited to try the soap because I find the smell more of my type. The packaging of the body wash, on the other hand, is really nice. It makes me wanna go to the shower and take a bath right away.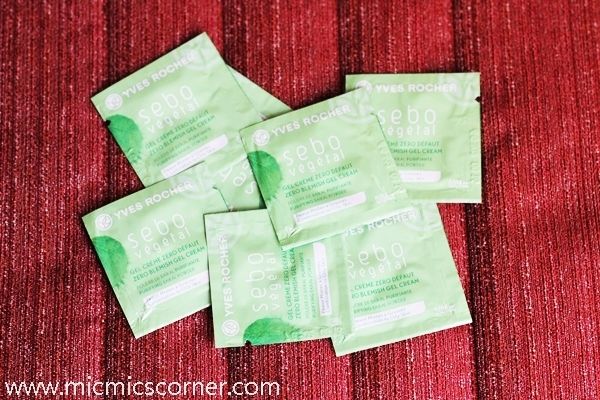 Yves Rocher Zero Blemish Gel Cream 50ml | Php 795
This will be your secret to flawless and smooth skin! Formulated with Baikal Powder which is recognized for its rebalancing virtues, it absorbs excess sebum and minimizes pores. It also hydrates for a full 24 hours, so you don't need to worry about overdrying your skin. Dab the fresh gel cream on your t-zone for all day protection against blemish and shine.
There are other products I have tried from this brand, a toner, perfume and a mascara. They gave promising results but I never purchased the full size because they are quite off for my budget.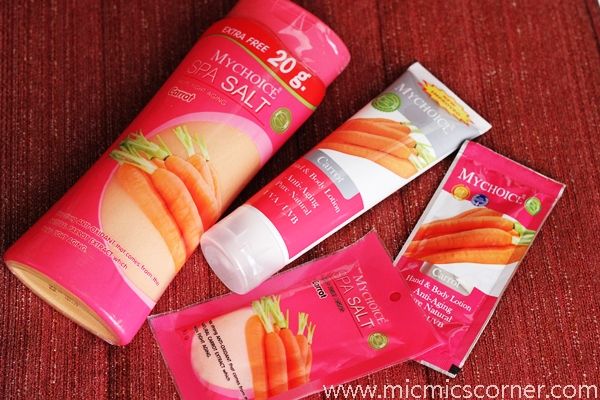 My Choice Smooth Skin Pack
My Choice Spa Salt, 500g | Php 100
Maintain your skin's youthful glow with this salt scrub that's packed with anti-oxidants and vitamins.
My Choice Hand and Body Lotion, 90ml | Php 70
This creamy lotion is concocted with natural ingredients, as well as collagen to nourish and protect your skin from harmful free radicals.
The Spa Salt is actually big for its price. This is the first time I am going to try something like this and the anti-aging variant is really a good match for me since I am 28 years old already. I am just a bit confused with the lotion because it says the full size has 90ml of product but when I checked the actual product, it is written that it has 100ml of product. So I am not sure. I also got some sachets which I think are freebies and I might include them in my next giveaway.
 Dove Hair Fall Rescue 7ml x 7 vials | Php 470
As the first hair care system that treats hair loss from the roots, Dove Hair Fall Rescue has infused Trichazole, Soy protein and Ginseng into their hair tonic, to reduce damage at the roots and lock your hair firmly in place, effectively lessening hair fall due at the source in just two weeks. Their formula feeds vital nutrients deep inside your hair, defending it from external stress and breakage.
I don't experience too much hair fall lately but my sister does so I guess I might give this to her. Her hair became really dry and brittle and prone to breakage so this is definitely for her.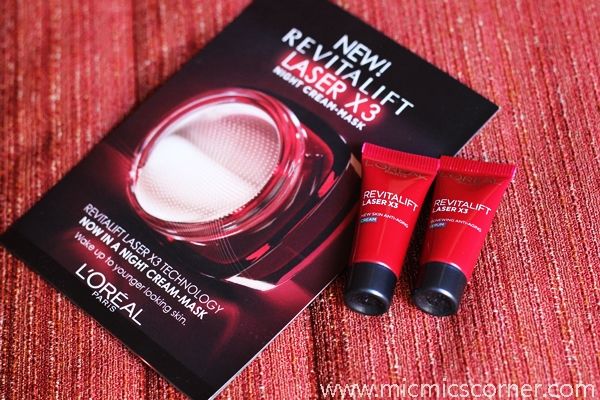 L'Oreal Paris Youth Duo
L'Oreal Paris Revitalift Laser x3 Serum, 30ml | Php 1500
Enriched with ceramide pro to stimulate the skin's renewal process, this serum reduces fine lines and refines skin texture in just 4 weeks.
L'Oreal Reviralift Laser x3 Anti-Aging Day Cream, 50ml | Php 1500
This day cream has LHA to smoothen pores and 3% concentrated pro-xylene for replumped skin. Apply over the serum for better results.
I appreciate that they wanted us to try it by giving us samples but I don't think I will be able to see results just by using them. I want samples that can give me results and will make me want the full sized product ASAP.
 Revlon ColorStay 16-Hour Eye Shadow Quad 1.9oz | Php 795
Rich, velverty shadows blend smoothly so you can easily contour and highlight your eyes. Beautiful color wears for up to 16 hours, won't crease, fade or smudge, so it will always look freshly applied. It comes in a palette of expertly color-coordinated shades that you can mix and match for your most gorgeous peepers yet.
I am happy that at least one makeup is included. I am not into eye shadows but I am excited to try this one. I got a neutral set and you know me, I love my neutrals. I also love the items that I am tried before from the ColorStay line so I am expecting this work just as good.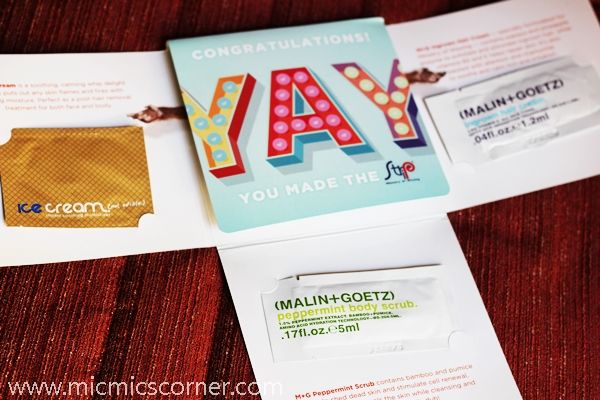 Strip RPT Kit
Strip Ice Cream, 50ml | Php 1750
RELIEVE – This soothing, calming whip delight calms your inflamed skin – perfect as a post-hair removal treatment.
Malin + Goetz Peppermint Body Scrub, 22ml | Php 1650
PREVENT – With bamboo and pumice to help shed dead skin, this cooling and creamy scrub will prevent ingrow hair.
Malin + Goetz Ingrown Hair Cream, 15ml | Php 1750
TREAT – It contains papaya and pineapple enzyme to eliminate ingrown hair, as well as vitamins B5 and E to repair skin.
Again, another set of samples. I like to try the Ice Cream though. I think I will experience results with just one sachet of sample. But I don't think I will be enticed to purchase the full sized one because of its price. In the future, maybe.
I computed the total amount of the full sized products and the total is Php 1,635. I did not include the soap because it is part of the trio pack. Again, I got more than what I paid for. The eye shadow quad alone makes the box really
sulit
for me. Although this this did not receive a "wow" reaction from me when I opened this, compared to the
September BDJ box
, I think that the box is still worth having and I am excited to share with you my thoughts about the products inside. My top picks are the products from Revlon, MyChoice and Dial.
There you have it, my unboxing of October 2014 BDJ Box. Please let me know if you find this post helpful. God bless!
Check these to know more about the box and the products:




BDJ Box website: 

http://bdjbox.com/


BDJ Box Facebook page: 

https://www.facebook.com/bdjboxMicmic