In the past months, I was able to accumulate quite a lot of new products. I decided to divide them into two posts and here's my first collective haul post which will focus on skincare. nail polishes and scents.
I was sent these products to try out and they are from
Beauty Essentials by Eren McKay
. This is my first time to try out anything from
Elella Cosmetics
and I am excited but still figuring out the best time to use them. Since it is summer and my skin got damaged from being exposed to sun during our vacation, I think the refreshing gels will be a big help.
[caption id="" align="aligncenter" width="600"]
Ellela Aloe Vera Refreshing Gel
Ellela Ginseng Therapy Refreshing Gel
3W Clinic Fresh Aloe Mask Sheet
Ginseng Therapy Perfect Face CC Cream
Ginseng Therapy Clarifying Essence
Malissa Kiss White Me Up Sleeping Pack
Malissa Kiss Mineral Aqua Mud Foam
[/caption]
[caption id="" align="aligncenter" width="600"]
Hand Made Body Wash
Strip It Hair Removal Sugaring Kit (Big tub)
Aloe Vera Gel
All-Natural Feminine Wash
[/caption]
Now, we have here the products
Strip It
sent me. I have been using this brand for years now and I am satisfied, as always. The Aloe Vera Gel is a must have for me because it does not only soothe waxed areas, but also helped me during the times I have sunburns.
[caption id="" align="aligncenter" width="600"]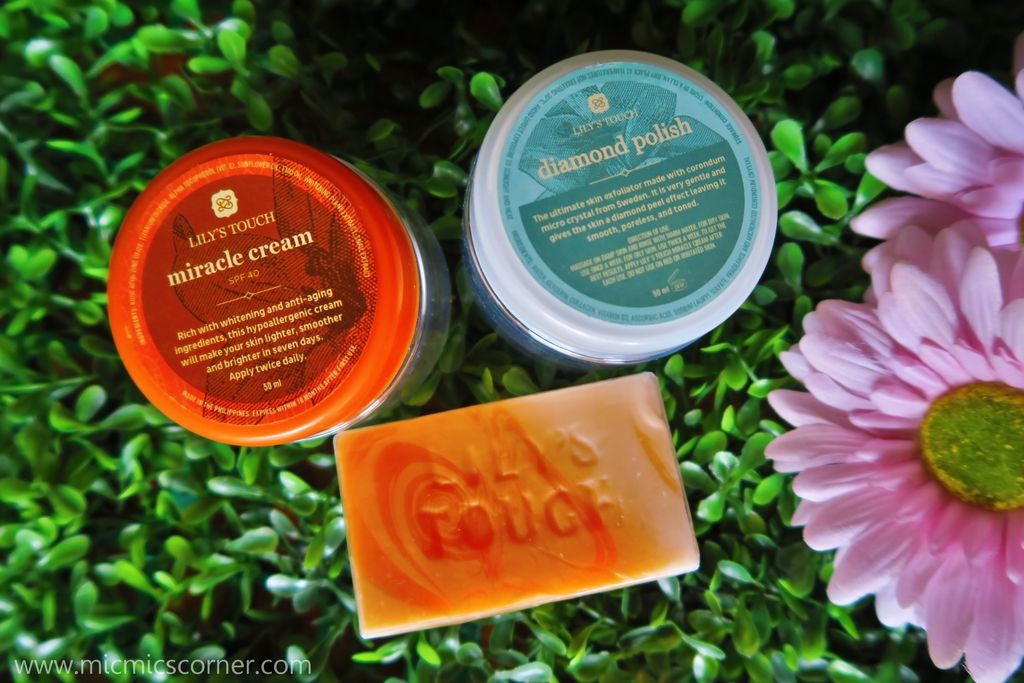 Miracle Cream
Power Soap
Diamond Polish
[/caption]
I ordered the
Lily's Touch
Miracle Cream and Power Soap from
Fashion Rumors
. I saw my sister-in-law use these and she has nice skin that's why I want to try them out. The Diamond Polish is also from the same brand but I got it from Strip It.
[caption id="" align="aligncenter" width="600"]
Celeteque DermoScience Make-up Remover Cleansing Facial Wipes
NIvea 3-in-1 Daily Deep Cleansing Exfoliating Wipes
[/caption]
I am going to film a video featuring these two brands of facial wipes but I got the exfoliating one instead of the regular one so I need to get that, soon.
[caption id="" align="aligncenter" width="600"]
Priva Intimate Wash 2-in-1 Skin Lightening and Firming with Cooling
Priva Intimate Wash Skin Firming and Cooling
Priva Intimate Wash Skin Lightening and Cooling
[/caption]
Women can never have too many intimate wash. I usually have back ups. We need it to keep our intimate area clean and fresh. Priva got me covered for months, I think. And I love that personalized candle holder. It has my initials but I forgot to show it on the photo.
[caption id="" align="aligncenter" width="600"]
Weens Nail Polish (Colorless, Tahiti Brown, Choco Fudge, Latte, Solar Flare)
[/caption]
Bye bye gel polish for now because it is expensive. I need to save money and one way I can do that is by doing my own nails. Each polish is being sold for more or less 25 pesos and can be used a couple of times. The nail salon I usually go to charges 120 for manicure and additional 50 pesos for imported nail polish. See the price difference? Of course, I will not get the relaxing treatment I usually get in the salon at least I will save a lot of money. Let's see if I can do this for months.
[caption id="" align="aligncenter" width="599"]
Lanvin Eclat d'Arpege Eau de Parfum
Clinique Happy Perfume
[/caption]
I got myself new scents. These are just Dubai perfumes. I will save up so that I'll be able to get US Authentic ones. I heard they last longer.
You may watch my haul video to see if there are some things I mentioned that and was not able to write here.
I will be posting the second part really soon so please watch out for that.
Micmic